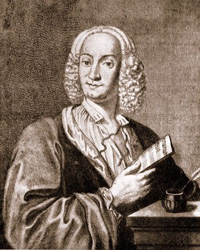 Written by Harry Clark
Music by Antonio Vivaldi
Premiered in 2011
1M: Antonio Vivaldi
M: Solo Violin,  Harpsichord plus small string ensemble
"For Blockheads: If you don't like this, I'll stop writing music". 
Vivaldi upon completion of a set of Violin Concerti
"Abbe Lord Antonio Vivaldi, incomparable virtuoso of the violin, known as the Red Priest, much esteemed for his compositions and concertos, who earned more than 50,000 ducats in his lifetime, but his disordered prodigality caused him to die a pauper in Vienna."
Pietro Gradenigo, Venetian Chronicler, written upon hearing of the death of Vivaldi, age 60
---
Vivaldi's Four Seasons is unmistakably Antonio Vivaldi's most famous work. Obviously, out of 500 composed concertos, one of them is bound to be a hit. You've heard many movements of Vivaldi's Four Seasons in movies like Tin Cup, Spy Game, A View to Kill, What Lies Beneath, White Chicks, Saved!, Pacific Heights, The Other Sister… the list keeps going, but I think I've proved my point. Perhaps you've attended a wedding where Vivaldi's Four Season's was played? In most cases, you have. If you stop and listen, chances are it's playing somewhere.
Vivaldi's Four Seasons was published in 1725, in a set of twelve concerto's entitled Il cimento dell'armonia e dell'inventione (The Test of Harmony and Invention). Each concerto is in the distinct form of fast-slow-fast movements. Vivaldi's Four Seasons especially appealed to the French. King Louis XV took a liking to 'Spring' and ordered it to be performed at the most unexpected moments.
Vivaldi's Four Seasons are among the boldest program music of the baroque period. Antonio Vivaldi wrote the individual Sonnets to go along with each movement of the Four Seasons. What's amazing is how accurately Vivaldi musically portrays each Sonnet without losing the overall quality and balance of the work. I strongly recommend listening to each movement of the Four Seasons while reading the corresponding Sonnets. It's truly a unique experience.
As you listen to the wonderful Winter Largo, here is the Winter Sonnet Text:
Winter
1.Trembling with cold amidst the freezing snow, while a frightful wind harshly blows, running and stamping one's feet every minute, and feeling one's teeth chatter from the extreme cold;
2.Spending quiet contented days by the fire while the rain outside drenches people by the hundreds;
3.Walking on ice, and moving cautiously, with slow steps, for fear of falling, spinning around, slipping, falling down, again walking on ice and running fast until the ice cracks and splits; hearing Sirocco, Boreas, and all the winds at war burst forth from the bolted doors – this is winter, but it also brings joy!
Performing the world premiere in the 2010-11 Season was Bob Clendenin