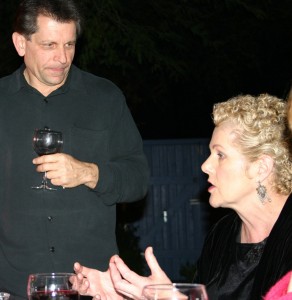 Written by Harry Clark
Music by Handel, Vivaldi, Bach
1W: Anna Magdalena Bach
3M: piano or harpsichord, soprano and cello
Thy servant, my sweet Maiden Bride!
May luck attend thee in this day's happiness!
Whoever sees thee in thy wreath
And thy lovely wedding clothes,
Cannot but laugh in his heart for sheer joy
At the contemplation of thy bliss.
What wonder that my lips and heart
Overflow with delight to greet thee?
A poem by J.S. Bach for his new bride, Anna Magdalena
---
There is less extant material about Bach—letters, diaries, first-hand accounts—than exist for any other composer of the first rank. His days were packed full with teaching, composing and duties as a father in an ever-expanding family (23 or so kids). Since most all of his musical activity was conducted so close to home, his few travels, mainly related to examining newly constructed organs, left little need or time for letter writing.
So why is it that this particular work is one of the longest of my portrait genre? Well, I love Bach, had a lot to say about him, and though he dearly loved Anna Magdalena he left her intestate—without a written will. Hence the double, perhaps triple meaning of the piece.
Bach's greatest blessing was to have had two extraordinary mates. His first marriage, with Maria Barbara, lasted 12 years, until she unexpectedly died in 1720 during one of Bach's few trips away. Grief-stricken, the father of four young children, Bach had the greatest fortune to remarry within 18 months to Anna Magdalena Wilcke.
Sixteen years younger than Bach, Anna Magdalena was a gifted professional singer earning a good livelihood, an extremely rare feat for a woman of that era. She bore 13 children (only six made it to adulthood), was invaluable to Bach as a musical copyist and business partner, possessed attuned political instincts to smooth over many of the rough spots Bach got himself embroiled in, and most importantly, Johann and Anna Magdalena loved one another with great passion and fidelity.
The mystery: Why did Bach leave no known will to protect his beloved wife upon his death? There is no satisfactory answer that any historian has been able to document.
This portrait was written in tribute to Anna Magdalena and to honor her 300th birthday. It has been performed many times but never with the same zeal and spectacular control of Lynn Redgrave. Lynn, too, knows a little something about entire generations of family involved in artistic endeavors.